WELCOME TO THE STANDARD ACADEMY OF DRIVING SCHOOL!
It has always been our school policy to provide the highest standard of informative driving instructions to our students. Our school is committed in molding better, safer and law abiding drivers. We give emphasis on the importance of driver safety in order to make our roads and highways safer for all road users.
Our personnel are meticulously screened and intensively trained to be able to provide excellent and informative instructions. They are all caring, polite, educated people with good moral characters and pleasant attitudes.We are all here for you not only to help you pass the road test but to make you safe, confident and defensive drivers on the road.
Our driving instructors are professionals that are capable of keeping the highest standards of teaching while at the same being patient and polite to all our students. We take teaching seriously and do not make false statements or make false promises to our students knowing that every person is unique and requires different amount of time to learn while at the same time treat them with patience and respect that they deserve.
Having your own license is essential in today's world. Imagine trying to find a job without one. Public transportation doesn't always go where you need to go, and it may take hours instead of minutes to get where you want. Owning your own driver's license opens up a world of opportunities that may not be open to you otherwise. Getting your license and achieving your independence could be a long and difficult path. We make it easy and fast for you. Our instructors and our unique methodology transform the complex to the simple and provide you the best possible training. Start today on the path to becoming an independent driver the easiest and fastest way!
To keep the best standards, our school is systematically inspected by The Ministry of Transportation Ontario (M.T.O). All student records, classroom and course curriculum are carefully checked for any errors and omissions. For student safety, each and every single vehicle in our school is fully commercially insured and systematically inspected by Ministry of Transportation Ontario.
Upon completion of the Standard Academy of Driving School course, you are eligible to reduce the waiting period for your first road test from 12 months to 8 months: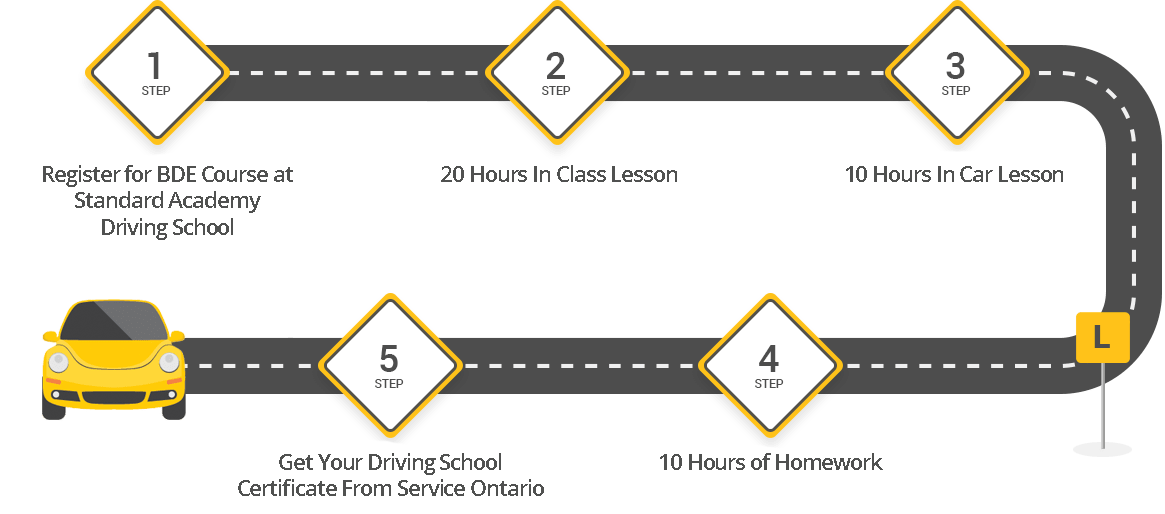 Start your Engine
Choosing Standard Academy of Driving School will put you on the road to be a better driver.